Opening of Hank's at Green Valley Ranch
The opening of Hank's at Green Valley Ranch takes Station Casinos as well as online casinos to a wholly new level on the Vegas restaurant scene that have even professional gamblers wanting more.
Las Vegas has always been a carnivore's paradise. Maybe it's something to try to to with the desert heat, but beef has always been consumed in greater quantities here than anywhere else within the country. In fact, the steakhouse remains one leg of gaming's holy dining trinity: coffeehouse, buffet, steakhouse. A casino without a steakhouse is sort of a slot club without bonus points—it just doesn't work.
The steakhouse may have come old alongside buffets and occasional shops, but that doesn't mean the concept has stagnated. Today's steakhouses might not differ much within the key aspects of their menus, but everything else has changed: theme, design, cooking methods, presentation, side dishes, and particularly the atmosphere, which has become quite an bit more sophisticated.
One gaming gambling company that isn't most following the trend because it is setting it's Station Casinos, which has gone from its humble Broiler roots to develop a number of the best quality steakhouses within the city. I've always been a cheerleader for Austins Steakhouse at Texas Station, and recently have started recommending that folks drive bent capital of New Mexico Station to test out the Charcoal Room, a somewhat more casual version of Austins with a lower cost point but the identical quality.

But now that Hank's Fine Steaks & Martinis has opened at Green Valley Ranch, i'll must shift my loyalties.
In its earliest days, Station was called a distinctly local gaming entity, filling a middle-market demand for gaming by the city's new residents who didn't want to travel to the Strip. there have been other companies also stepping into the local arena—notably Boyd Gaming and Coast Resorts—but Station looked as if it would stay sooner than the curve during a way that few could keep up.
The company marked a turning point toward the high-end with the opening of Sunset Station, with its swirling, under-the-sea Gaudi Bar, upper-end restaurants, and one-notch-up environment. Station opened their first attempt at a high-end steakhouse with Sunset's Sonoma Cellar, a step within the right direction, but a far cry from what would become Austins Steakhouse.
Austins became a classic the instant it opened, replacing a garish, ranch-themed steakhouse whose name is best left forgotten. Austins introduced A level of sophistication to both Station and steakhouse that had not been present before. Clearly, the corporate was on to something new. the look alone is noteworthy, a jewel box of swirled, multi-colored pendant lamps, deliciously high-backed banquettes, walls of colored glass and an open kitchen that sends tongues of fireplace high into the air, reflecting off the blown glass artwork and long-stemmed wine glasses.
And the food! Austins brought a wholly new level of quality and repair to the steakhouse experience, one that hasn't been duplicated with the identical sense of comfort and low-key casualness that Station has mastered. Like its sister steakhouses, Austins offers classic steakhouse fare, from the shellfish appetizers to an array of salads (hearts of palm, Austins chopped steakhouse salad… all sufficiently big to share), and therefore the usual selection of classic cuts—a 20-ounce, bone-in the big apple Strip, fillet in regular and petite sizes, veal chops, several grilled fish, and some oddballs, like Southern fried chicken and therefore the now-famous Cowboy Rib eye. Likewise, side dishes are standard but excellent. The creamed spinach may be a standout, potatoes are mashed with horseradish, fried several ways, drenched with cream and shredded cheese, or served whole in their jackets. Green beans always come almandine style, and asparagus is steamed and served with Hollandaise sauce.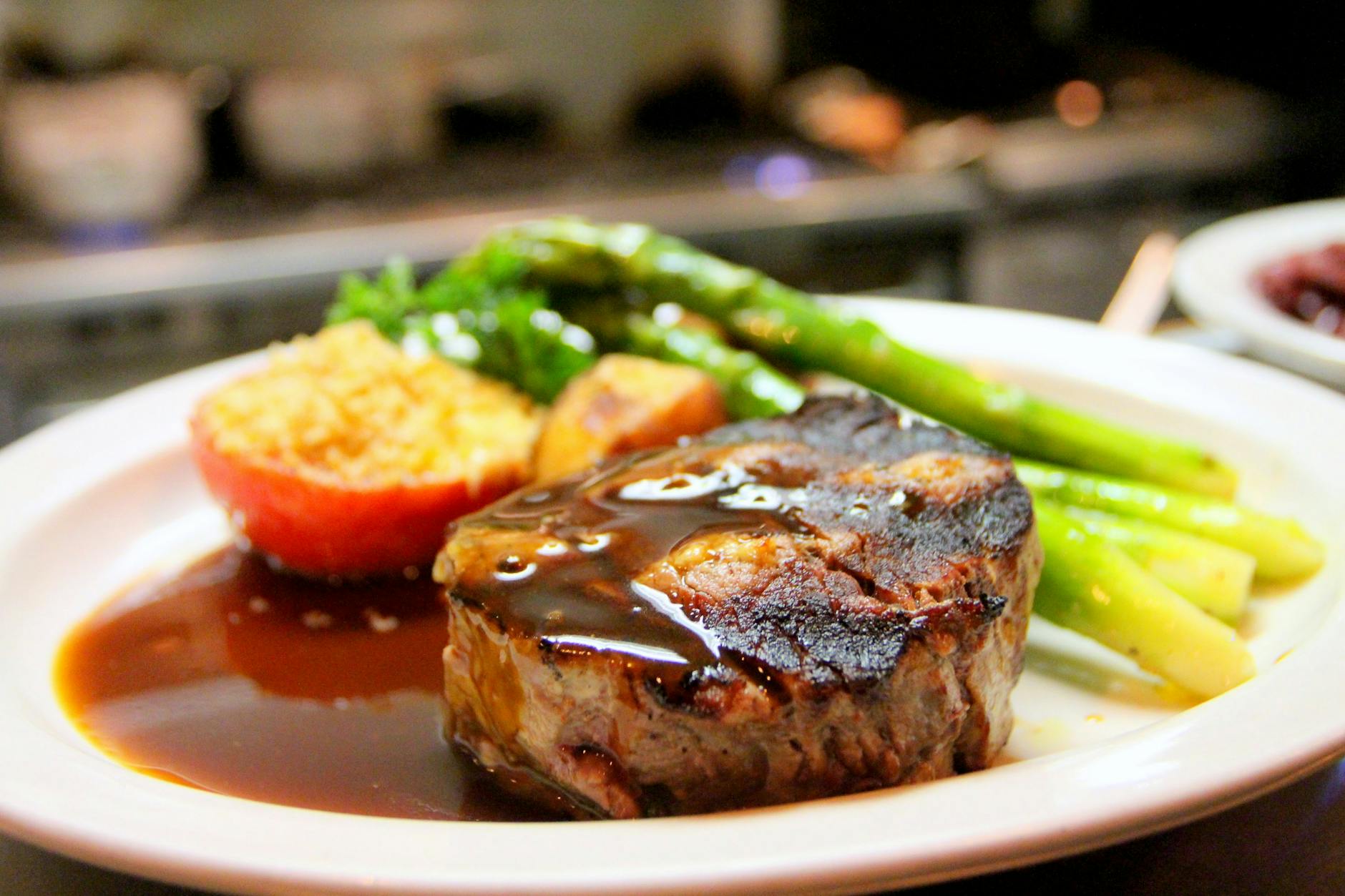 With only some exceptions, this is often essentially the identical menu you'll find at the Charcoal Room, which is one in all Vegas's hidden gems. When the corporate bought the capital of New Mexico from the Lowden Group, they sunk considerable dollars into bringing the property up to Station's new standard of quality. a number of the look changes harken to Green Valley Ranch, with exposed stone and earth tones throughout the casino. The Charcoal Room is de facto a find, particularly during this relatively unknown section of Northwest Las Vegas, which are some things of a culinary wasteland.
The room is unusually designed. Gone is that the funky art glass and open kitchen, replaced by a wall of stone and glass that literally splits the restaurant in half, providing a house for the huge storage space. the primary room is home to the bar, a dimly lit, casual square of red leather with flat screen TVs above the bottles. Guests can gnaw at the bar or in one in all the table surrounding the bar. With its stone walls, wooden flooring, redness lighting and floor-to-ceiling red velvet curtains, the full area takes on an almost saloon-like feel, which is ideal for solo diners and people who'd sooner avoid the dining room. Not that the most area is significantly different. The wood, the stone walls and therefore the red lighting are all present, but they tackle an unusual appeal during this most casual of steakhouses.
There's still no questioning the standard of the food. This menu ventures into some areas that Austins, with its sense of traditionalism, would sooner avoid. for instance, Charcoal does a surprisingly savory Wild Turkey BBQ Shrimp appetizer that seems peppery and smoky. There's a burger made of 13 ounces of ground rib eye, and a delicious veal porterhouse that weighs in between 12-14 ounces, including the bone (perhaps best left for smaller appetites). We loved the creamed corn cooked with its spicy bits of jalapeño, and therefore the luscious hash brown potato cake, which we simply ate with our hands when nobody was looking.
More significant perhaps is that the price point of the Charcoal Room—this is clearly the smallest amount expensive of the three (note that I didn't say cheap), a notch below Austins and positively a jump down from Hank's. I particularly just like the wine list at Charcoal, which isn't only extensive and well chosen, but okay priced. this is often as user-friendly as wine lists get.
But nothing could prepare me for Hank's—the place literally blew me away. It's stunning. the complete bar is yellow onyx lit from within, with several crystal chandeliers hanging between shimmering curtains. Pendant spotlights are capped by giant diamond-shaped crystals, accenting the lustrous African Zebra wood walls, the marble floors and therefore the opalescent artwork. Live music begins nightly at 6 with a virtually hidden pianist tucked discreetly within the back of the lounge area. an enormous wall of wine separates the bar from the dining room, topped with 3 giant plasma screen TVs, just to remind you that you're still within the bar. Behind the clear glass case may be a suggestion of fireplace. An open kitchen? a touch of what's to come?
We don't have time to wonder because the martinis have arrived—and because the name of the place is fully Hank's Fine Steaks & Martinis, we weren't missing out on its namesake. a wise move—that bar is heaven to sit down at while enjoying the piano. Is Hank's a return to the high-end Vegas restaurant and lounge? It certainly feels that way.
Turns out that fireside isn't from an open kitchen, but is really a magical wall of enclosed fire that divides the dining room into two large seating areas. Just to run down some facts: The chandeliers are all Czech crystal and took five days to assemble (by the Czechs who flew in with the crystals); the cake-like chandeliers of crystals took 10 days. All of this has the magical effect of lighting the space by a mixture of fireplace and crystal, which creates an otherworldly ambience. that very same African Zebra wood veneer literally glows within the reflected light, with more artwork, curtains and Italian marble. The linens are Egyptian and therefore the stemware may be a line of Riedel being introduced to the States for the primary time here at Hank's. The incredibly comfortable banquettes are all pillow-tucked baby blue crushed velvet.
Austins and Charcoal
This is not a space that may be fairly compared to Austins or Charcoal. this is often a steakhouse along the lines of what you'll find at Wynn, Bellagio or Venetian.
And with such extraordinary decadence comes price. this is often not the steakhouse for an inexpensive night out—which didn't stop it from being packed solid on a Wednesday night within the middle of December, which, they said, is typical—they haven't had one table left unserved since curtain raising.
Even high-end Strip Food & Beverage executives are seen making their way through Green Valley Ranch to test out the new competition, especially because it's going to be the model for what's to come back at Red Rock Station when it opens later this year.
The food maintains the classic steakhouse fare, but Hank's has one-upped the others. the meat has all been wet and dry-aged for 45 days, leading to tender, flavorful cuts that nearly melt on the blade. The crab cakes are an absolute must for an appetizer, and therefore the lobster chowder with corn and new potatoes is classy, topped with chunks of lobster. Salads include an array of warm cheese and roasted beets on baby greens, yet because the Hank's Steak House salad that comes directly from Austins (as does the buttermilk fried chicken).
That said, this place is all about the steak—right up to the tableside chateaubriand for 2, carved tableside with all the trimmings, for a mere $90 (hey, the 20-ounce bone-in the big apple will set you back $46 alone… the 18-ounce bone-in filet is $2 more). But these are steaks like none other. It's not exaggerating to mention these is also the simplest in town, insured by a Bordelaise, a Béarnaise, a velvety bleu sauce, even plain old Dijon mustard.
All sides arrive in their own forged iron kettles, from the heart-stoppingly rich, creamed spinach, to the marvelous cauliflower and horseradish. Fries are wrapped in newspaper and placed in an iron cone, allowing them to carry their heat. the edges are only $9 each, but if you've got to ask, you shouldn't be here. Just wait till you see the wine list—the Cabs outrank the Meritages in price, which is sort of unprecedented (apparently, the previous restaurant had plenty of high-priced wine it never got around to serving). We had a Flowers Chardonnay, one in all the foremost Burgundian of the California Chards, for a relatively reasonable $75, and so threw caution to the wind with a $200 bottle of 2001 Quintessa. We didn't regret one sip.
We did regret the dearth of a cheese cart, but were told that it's coming, together with some changes to the wine list which will see more French wines and a greater variety in price. What we didn't expect was a dessert cart, loaded with gelato and 7 or eight different toppings, all prepared tableside. Now that's innovative. A separate dessert menu with classics like custard and apple pudding is presented simultaneously, together with an inventory of dessert wines and an inventory of single malt Scotch that almost brought me to tears.
Almost three hours later, floating from the Flowers and Quintessa, reveling during this fantastic new find, it occurred to me that I'd have a controversy inscribing this column. The intent was simple—Station's three steakhouses—the classic winner Austins, the hidden gem Charcoal Room, and fancy newcomer Hank's. Looking back, this is often really two columns in one. Austins and Charcoal are clearly siblings, one with polish and wit, the opposite with casual flair and earthy appeal.
But Hank's is during a different class completely. Fancy newcomer, yes. But this is often a restaurant for Zagat to swoon about, with some star chef presumably overseeing the kitchen. Yes, it's pricey, and yes, it's a touch out of the way. But Green Valley Ranch may be a gem unto itself, and with Hank's, finally incorporates a steakhouse merit its national, high-end boutique hotel status.